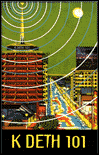 A 10,000,000 WATT CHARGE
OF MEGADETH
Resident DJ Vic "The Stick" Rattlehead spins cuts from the new "Cryptic Writings" LP, plus all your favorite Megadeth oldies. Broadcasting 24 hours a day, seven days a week.
K-DETH 101 is broadcast using RealAudio. You can grab a copy of it from here. Need help using RealAudio?


Listen to K-DETH 101 from start to finish!
From "Cryptic Writings" we've got four hot new tracks:
An exclusive live track of A Tout Le Monde from the February '95 Olympic Auditorium show
Crown Of Worms, a K-DETH exclusive!
Peace Sells, Live from the Cow Palace in San Francisco '92
Hangar 18, from "Rust In Peace"
Symphony Of Destruction, from "Countdown To Extinction"
Train Of Consequences, from "Youthanasia"
Angry Again, from "Hidden Treasures"

K-DETH 101 is available in three levels of quality: If you connect at 14.4 kbps, you will receive the basic AM radio-quality feed. With a 28.8 kbps connection you will be able to listen in higher fidelity. With a connection of ISDN or greater, K-DETH 101 will have quality that is actually better than an FM broadcast.