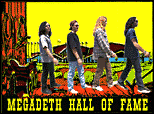 WHAT THE HELL WAS
MEGADETH, ARIZONA?
The History of the Biggest Little Town on the Internet
The legend that came to be known in all four corners of the Net as Megadeth, Arizona began one fateful day in October 1994, when Capitol Records and Megadeth, honoring the release of their new album "Youthanasia" welcomed wired music fans to the worldwide website that quickly became the hottest destination on-line.
Megatravelers to the biggest little city on the Internet were amply rewarded for their visit with a heaping helping of Megadeth hospitality.

Whether they were downloading the exclusive Megadeth Mac or PC screen saviour featuring eight sonically-spiked road trip scenes; participating in Dave Mustaine's poll of fans most-requested songs for the 1994 "Youth in America" US tour; unraveling the mysteries of Marty Friedman's guitar wizardry on his self-penned Guitar Talk page; or sharing Dave Ellefson's reports from the road in The Obituary, nobody left Megadeth, Arizona unsatisfied.

And as anyone who ever visited the Megadiner will attest, friendships, romance, good chow and the Web's first-ever unnannounced live celebrity chat (where Dave Mustaine got the first and last laugh) kept tables filled to maximum occupancy around the clock!
To thank the faithful town denizens who helped make the once-tiny outpost on the cyberfrontier so rich in megalore, the Town Father's hosted a spur-studded gala for all in "The Best of Megadeth, Arizona Awards" in April 1995. First step!-- Dave made the official announcement online before the press got wind of it. (And if givin' ain't better than receivin', while we were givin' out awards we were receiving 'em too!)

Then, we had the ceremony and it was standing room for all! Phew! And then the fun was over.
As the sun began to set on this landmark branded forever in Internet memory, and the pioneers who staked the claim and built up the town set off for some well-deserved travels of their own, Megadeth Arizona became a ghost town on the digital map.
Now, with the feverishly-anticipated release of Megadeth's newest album Cryptic Writings, another long-awaited event has come to pass: Megadeth, Arizona, "The Resurrection." Welcome back to the home of the greatest games and gossip, romances and rumours, stories and queries, mail and music. Once more for old times sake, strap on your spurs, make a left at the bovine remains... and you're there all over again.