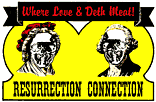 THE PLACE WHERE FRIENDS, FANS AND SOULMATES SPEAK THEIR MIND
Grab your keyboard and a dictionary, brush up on your writing skills and share a tale or two with other Megadethers here at the Resurrection Connection.
Here's your reward for getting creative. The best entries, either the truth or just plain made-up, will be sent either a Megadeth limited edition (not for sale) "Cryptic Writings" package or the limited edition in-store play sampler "Old Testament" (Vic Rattlehead appears on this!).

CONNECTION TOPICS
The Tour
Tell us an experience you had in regards to a Megadeth Show.
The New Album "Cryptic Writings"
Tell us a tale. Personal experiences in regards to the new album.
Megadeth Sightings
If you see or hear anything with the word Megadeth on it, tell us about it!
Megadeth, AZ
Tell us an experience you had in Megadeth, AZ.
Megadeth Romance
Got any juicy Megadeth love stories? Kiss and tell right here!
Megadeth's Break Ideas
Tell us what Megadeth should do during their time off.
Trading Post
"Looking for that rare Megadeth poster? I'll trade you for my Megadeth Live in Siberia T-Shirt!" You can find it here in the Trading Post!
Want to see other topics? Well..what are ya waitin' for... tell us y'all!