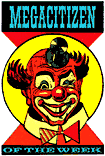 A SALUTE TO MEGATRAVELERS OF NOTE
Are you special? Know someone who's extra-special? Or just need a little attention 'cuz you're unspecial but want to feel special? Every week, we'll choose a Megatraveler of notoriety to profile here! Send us your name, URL, photo (if you can), and a short essay explaining why they deserve to be pinned Megacitizen of the Week. Better make their entry "megaspecial", there's a lotta competition out there.


Send Photos Here.
(Optional)

THIS WEEK's MEGACITIZEN IS:


ᎠΕΑΝ ᏞΟԜΕᎡΥ
email: [email protected]
Nominated by: [email protected]
I am writing to tell you about my best bud Deano, he has got to be the biggest megadeth fan I have ever seen, this guy doesnt own anything, but megadeth stuff, he named his band "youthanasia" because of Megadeth, he only playes the Jackson King V's just like dave, but the other day, when the trust video came on he noticed the guitar dave was playing and that very day he was calling everybody trying to find a guitar like that. People always say that he even looks like dave. I [also] wanted to tell you that it would be really cool for him to be megacitizen of the week [because] he is my best friend and he has helped me out alot, so thanks!
Curious how they did it? Check out the past winners, and don't forget to take notes.